---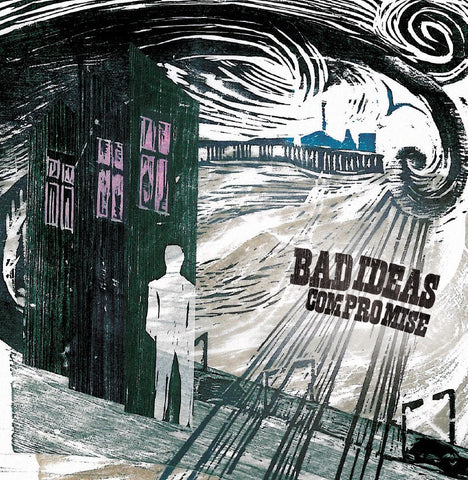 Bad Ideas - Compromise CD
No Reason Records
---
Compromise is essentially an indie-rock punk album with influences of folk… simple enough, right? Well, surprisingly enough it is.  Bad Ideas manage to blend these genres effortlessly into 11 songs of easy listening and it's a concoction that proves to be very successful.
Opener Compromise is a heartfelt song that begins the album on a softer note, the gentle plucking of a guitar accompanying vocalist Sam Cook's laid-back voice. It's the relaxed quality of this album that leads it into punk territory – it's not too try hard and unlike the early anarchists that naturally spring to mind when the punk genre is mentioned, it doesn't have to scream anything to convey a message or feeling.
The album continues without much deviation from the standard formula of relatable lyrics and sing-along choruses. Bad Ideas often switch between a stripped back acoustic sound and a full-blown band, keeping you on your toes. They even have a tendency to do this part-way through songs such as No Secret; I_ which is a heart-wrenching tune if ever there was one, with lyrics such as "I've not seen my friends in weeks". Another belter isShells & Stones, two and a half minutes of pure sincerity with a catchy chorus which remained in our heads until hours later when we caught ourselves humming it.
The guitar riffs are evocative of The Gaslight Anthem (especially in A Little Lost and Fake Teeth where you would be forgiven for thinking that the guitar intros belong to Gaslightthemselves).
Closing song Dirty Habits is the longest song on the album at four and a half minutes long (in true punk fashion, the other tracks are around the 3 minute mark). It's one of their more low-key songs until the last minute when they end on a high. It's a suitable end to an album rife with emotion and reflection, as well as a significant dosage of charming folk-infused punk.
This is certainly an album that is difficult for anyone to dislike, the sort that you can listen to in company without any complaints. It is actually quite difficult to pick out standout tracks because although every song is good, there isn't much variation, which is perhaps the only flaw. But it's not the end of the world when every song is as refreshingly straightforward and honest as this.
---
More from this collection