---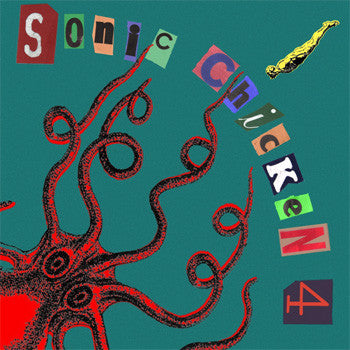 Sonic Chicken 4 - S/T LP
Bachelor Records
---
After releasing a string of seven inches on
NASTY PRODUCT
, recieving glowing reviews in magazines, webzines and blogs across the globe, and playing dates in Europe and the USA, SONIC CHICKEN 4 inked a deal with one of the leading garage punk record labels, IN THE RED, to release their first full-length back in 2007. The album got raving reviews so the band decided to tour the USA in 2009.
Then they did singles on
ROBS HOUSE
and
TROUBLE IN MIND
and recorded another full length that was supposed to come out in 2009 just in time for another US adventure, this one with appearances at Goner Fest 6 (Memphis) and Scion Fest (Portland). When this tour began, the album was postponed by the label. They went back to Europe to do another month of touring… and the album was postponed again... and until now it never came out. In 2010 the band slowly stopped its activity... stopped playing live and stopped practicing.
Years later
Dusty Medical Records
(Milwaukee, MI) and
Bachelor Records
(Austria) rediscovered this "lost" 12 song masterpiece, a garage punk gem from a looong forgotten time. Yes its true, only about 5 years ago this thing we call Garage Punk sounded a lot different! That was before this genre was washed down by hipsters, before it was cool to shake bums to primitive beats. Before garage punk bands had booking agencies, five-page hospitality riders and tuners… This album is a document from a not so long-gone era. Recorded in only two days in a Spanish castle in Valencia, produced by
King Khan
with help from Isidro (Wau y los Arrghs) and mixed by the band in Perpignan, France, the 12 songs serve as a wayback machine. Try it… take a sip and go T-R-I-P-P-I-N-G!
SOUNDS LIKE: a fuzzy, ultra primitive brand of garage stomp that owes equally to 60's pop, VU, Back From The Grave comps, girl groups and Jaques DuTronc. Some kind of borderline garage sixties punk...
---
More from this collection